New websites are launched every single day.
That's an extraordinary number, but how do all these new domains get web traffic? Real users that read or engage with what is being output. Well, the simple answer is they don't.
The majority of new sites will not get many users – regardless how informative it is, or how innovative your product or service is.
How do you get web traffic?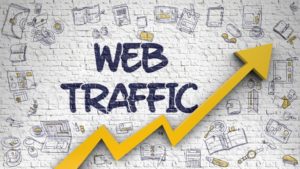 1) Preparing your website
The first step is to help create the best platform for your content.
Google Search Console / Analytics
To get a general idea of your site health, create a Google account for your site to set up a few key tools like Google Search Console and Google Analytics.Google Search Console (formerly Webmaster Tools) is a simple way to see how your site performs, and if there might be issues in how Google "sees" your site.
Screaming Frog
Screaming Frog is a downloadable tool used to "crawl" through a website, much like a search engine does. It inspects all site elements – html pages, images, scripts and other files.
2) Keywords
Search engines like Google or Bing, are used to find answers to specific queries.The basics of search engine optimisation (SEO) is to place keywords or phrases in strategic places on your site, so that it highlights to Google what can be found on your site. This should align with what users are searching for.The catch is that each word or phrase has a certain level of competitiveness. The more popular or competitive the term is, the more difficult it is to make your website rank for it in search engines.
3) Creating better content
You have your list of keywords, and now it's time to get them inserted into your content.From a content marketing perspective, an article consists of a few important elements:
Headline
Content
Meta Data
Headline
What really draws in users, is an inviting article title. Users will judge whether your article is worthy of clicking on, based on the title you pick.
Content
You can use word processor software like Microsoft Word or Google Docs to quickly check your spelling and grammar. Hemingway analyses your copy, and suggests which sentences are hard to understand, or could be replaced by simpler terms. This helps you break up your content so that it's much easier to read.
Meta Data
Meta data appears in search engine results. It usually displays a title, and a brief description. There might be other internal links if Google decides they will be useful to users – these are called sitelinks.
4) Backlinks
Each website builds up a type of "web authority". The higher your authority, the better your website will rank in search rankings.
5) User Experience
Another factor that Google and other search engines looks at, is user experience.
Is your website properly structured, is it easy to navigate? How fast does everything load?
Any of these factors can cause a user to close your site, and look for another. If somebody is not finding what they're looking for, it counts as a negative.